Storms are more common in the ACT during the main period of increased storm activity from September to the end of February, but it's important to be prepared all year round.

Severe storms can cause major damage. They may be accompanied by torrential rain, strong winds, large hailstones and lightning, which can cause flash flooding, unroof buildings and damage trees or power lines. Australia's greatest costs, in terms of insured losses, are caused by storms.
You can also be indirectly affected by storms even if your property is not damaged. If access roads are cut or you have no power or telephone, you need to know what to do – and where to turn for help.
StormSafe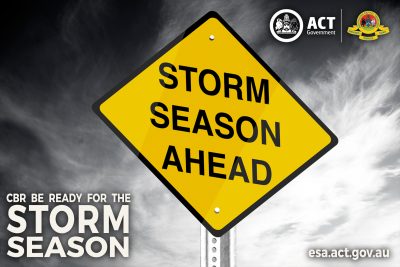 In September each year the ACT State Emergency Service (ACTSES) conducts a community awareness campaign to help residents prepare for the storm season.
The campaign is designed to educate you and your family on how to prepare for and safely respond to and recover from storms.
You can learn more about how to prepare for storms and floods with the ACTSES StormSafe brochure [PDF 2 MB] and the ACTSES StormSafe "8 Tips you can do now to prepare for storms" Card [PDF 1 MB].
Tsunami Safety Information
A large number of ACT residents travel to the south coast of NSW and other coastal areas, and it is important for them to have access to information about tsunamis.
NSW State Emergency Service (NSWSES) Tsunami Information Site
What StormSafe means for you