RFS Volunteers
RFS Volunteers

There are many reasons to join the ACTRFS. You may want to protect your families, your friends, your home and assets, your community and your way of life.
Volunteering with ACTRFS offers you the opportunity to learn new and valuable skills that will not only assist you in your voluntary role but in day to day life and even your workplace. It's also an opportunity t meet people you wouldn't normally meet, and be part of an organisation with a proud history.
Not just firefighting
Being a member of the ACTRFS means service to your community, and doing what you can to protect it. While this does involve firefighting, that is just a portion of what we do. Activities like training, development, community events, providing information and supporting other emergency services rounds out the volunteer experience.
There are many roles and opportunities available so volunteers can make the most of existing skills, develop new ones, and explore their interests. The roles fall into one of these categories:
Active firefighter
Active firefighters attend regular brigade training sessions, and are operationally active to perform functions such as firefighting, fire ground scribes, response to storm and flood damage, and support to incident management operations.
Operational support
Firefighter support volunteers support operational activities by performing functions such as administrative tasks, transport, staging area management, and station duties.
Brigade support
Brigade support volunteers largely take on administrative and community engagement functions. These positions often support members during operations, are placed in incident management teams as scribes, or take on committee positions.
The ACT Rural Fire Service accepts expressions of interest throughout the year from prospective members wishing to join the Service.  A competitive and rigorous recruitment process applies and not all applicants are successful.  Please note there are limited Brigade openings each year and not all Brigades require new members at this time.  For further information about volunteering with ACTRFS please refer to Frequently Asked Questions.
ACTRFS Training Package and National Accreditation References

A heavy tanker pump in action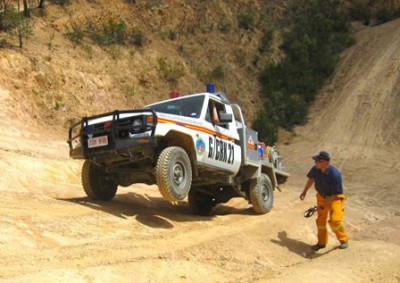 4WD training
The ACT Rural Fire Service training packages come from the National Public Safety Training Package. All Service training is nationally recognised within the Australian Quality Training Framework and is generally recognised across all fire services in Australia.
The Service provides training from Certificate 2 in Fire Fighting Operations through to Certificate 4 in Fire Fighting Supervision.
This training will provide all the necessary skills to equip you to work in a team under direct supervision on the fire ground. This training is required for all ACT RFS firefighters and is generally delivered over 4 evening theory sessions, and 2 days practical work on weekends.
Village Firefighter
This training builds on the Bush Firefighter training above.
This course enables participants to undertake motor vehicle firefighting, as well as defensive structural firefighting (we do not enter buildings). This course is delivered in a 2 and a half day format.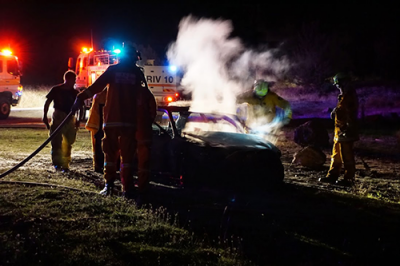 Village firefighting in action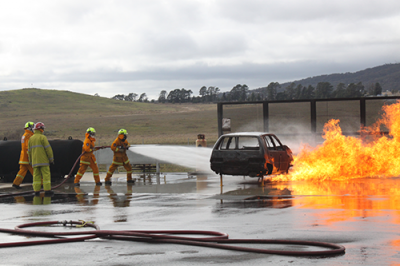 Gas prop training at hume training centre
Advanced Firefighter
This training is broken into 2 parts – Technical and Principles. This allows members to develop their technical skills (Firefighting) and then develop their leadership and safety skills at their own pace.
Advanced firefighters take on a mentor role with newer firefighters and are expected to work with limited supervision.
These units are delivered separately. All training at this level requires commitment over weeknights and weekends.
Members must hold all Bush Firefighter units of competence to be eligible to complete this training.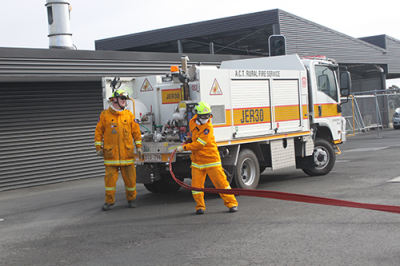 Crew Leader
This training is designed to develop members who wish to take on leadership roles within their Brigade.
The crew leader package is delivered in three sections. The courses are designed around different sections of fire-fighting.
Members must hold all Advanced Fire-fighter units of competence to be eligible to complete this training.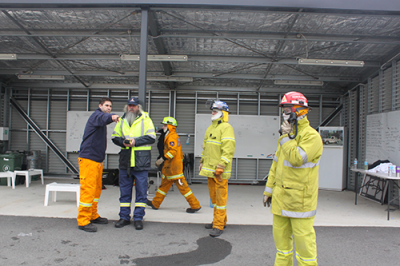 Divisional Commander
This training is for senior field fire management officers.
It is a four and a half day course.
This course develops the individual's crew management, fire behaviour, and incident management skills.
Members must hold all Crew Leader units of competence to be eligible to complete this training.