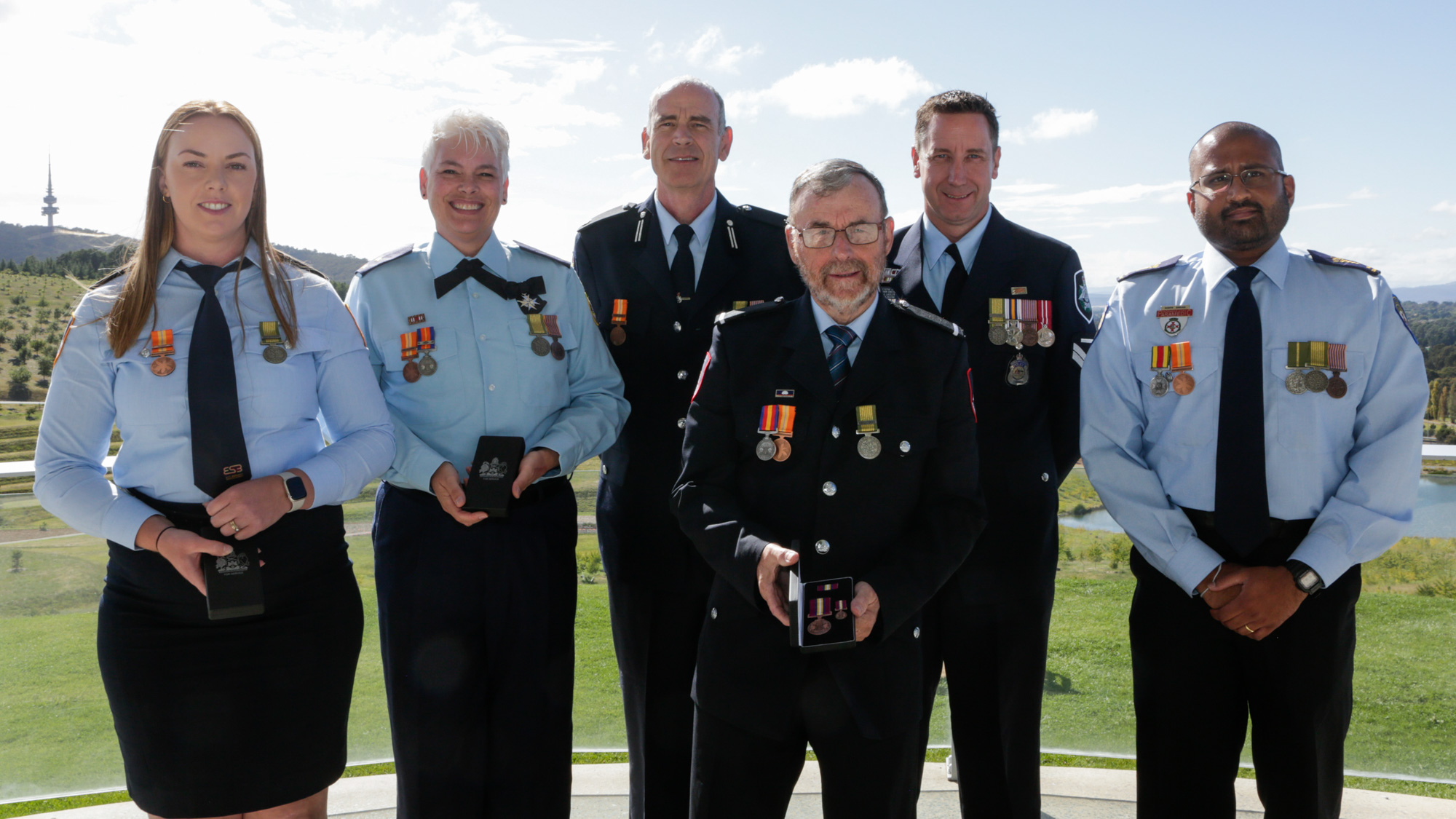 Six members from the ACT Emergency Services Agency and ACT Policing have been awarded the ACT Community Protection Medal (CPM). 
Established in 2002, the award formally recognises that these people have gone above and beyond in their chosen fields, and acknowledges sustained, distinguished, and outstanding dedication – making the ACT a better place to live. 
Susith Adikari – ACT Ambulance Service 
For exceptional dedication to duty while acting as Training and Development Officer (TDO) and Intensive Care Paramedic for Block 1, Emergency Operations, ACT Ambulance Service. 
Commander Bruce Chancellor – ACT Fire and Rescue 
For sustained, distinguished and outstanding service to ACT Fire & Rescue (ACTF&R), the ACT Emergency Services Agency (ESA), and the ACT Community through his dedication to community-based recruiting processes and managing the delivery of multiple successful Recruit College programs. 
Ian Harding – ACT Rural Fire Service 
For dedication and support to the ACT community as a volunteer firefighter and his personal commitment to the training and professional development of Bushfire Fighters in the ACT, especially new recruits. 
Kym Schmid – ACT State Emergency Service 
For dedication and support to the ACT community as an ACTSES volunteer for over 20 years. Her degree of operational support in the field has greatly helped the community in times of need, often in challenging weather conditions experienced during the day and night. Outside of operations, she has made an incredible contribution to training and community education. 
Richelle Larkins – ACT Emergency Services Agency 
For ongoing dedication, passion and commitment to serving the community through the ACT Emergency Services Agency (ESA) and previously the ACT State Emergency Service (ACTSES). She has served the community diligently dedicating close to nine years to the ESA and ACT Community in various roles including the ACTSES Community Liaison Coordinator, ACTSES Acting Manager Policy and Planning, ACTSES Assistant Director Membership and Engagement, ACTSES Acting Director Membership and Engagement, and ACTSES Acting Learning and Development Coordinator. More recently Richelle has undertaken high-level work as part of the ESA Agency Collaboration team. 
Detective Leading Senior Constable Ashley Laidler – ACT Policing 
In a nearly 23-year career, Ash has worked in a number of areas including Tuggeranong General Duties, Criminal Investigations, Rural Patrol, ACT Policing's Sexual Assault and Child Abuse Team, Professional Standards and for the past six years, has been part of ACT Policing's Major Collision Team. Ash has dedicated his time to schools and community groups to teach them about road safety and helps to keep all road users safe through his work in fitness to drive reviews for license holders.  
Congratulations to the deserving recipients! We're so grateful to have such dedicated members of our community keeping Canberra safe.