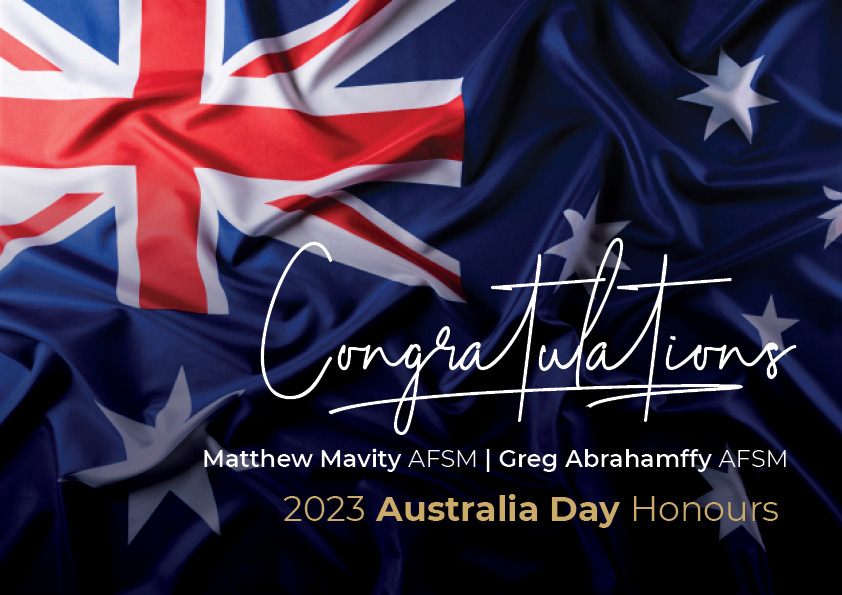 The ACT Emergency Services Agency congratulates ACT Fire & Rescue Chief Officer Matthew Mavity and Station Officer Greg Abrahamffy who have been announced as recipients of the Australian Fire Service Medal (AFSM) in the 2023 Australia Day Honours.
The AFSM recognises distinguished service by a member of an Australian Fire Service.
Mr Matthew Mavity
Mr Matthew Mavity has served at every rank in ACT Fire & Rescue (ACTF&R) from recruit to Chief Officer. During his 25 years of service he has maintained his energy, curiosity and drive for change and innovation. Inclusion and belonging are at the heart of his goals for ACTF&R.
From a firefighter on the front line of the 2003 fires to an incident controller during the 2019/20 bushfires, he has seen a lot of change and has contributed to that change as an employee representative, firefighter and member of the community. Specialisation and dedication to technical excellence has informed his view of service to the community and his passion remains working with the community to understand how best firefighters can help in supporting resilience, whilst also being ready to intervene where required with compassion and dignity of the community as the first guiding principle.
During the Covid pandemic, then Superintendent Mavity pivoted from his traditional Fire and Rescue role and ran a small team which partnered with local industry to manufacture hand sanitser and cleaning products for the ACT Government and medical Non-Government Organisations. This role ensured supply of critical products during significant supply chain disruptions.
He aims to build a more inclusive service with equal representation from throughout the entire community. He also strives to ensure the organisation he loves reaches the potential it has through constant evaluation and a willingness to change and be ready for whatever comes next. Mr Mavity has dedicated his adult life to service of the community and his passion and enthusiasm are both effective and contagious. ACTF&R is in good hands as it navigates a period of growth and renewal driven by generational change and a desire for the service to remain amongst the very best fire services in Australia.
Mr Gregory Istvan Abrahamffy
Mr Gregory Abrahamffy joined ACT Fire & Rescue (ACTF&R) as a recruit firefighter on 20 June 2002. Since joining ACTF&R, he has served in various front line operational roles specialising in Emergency Communications Centre operations, and Compressed Air Foam System (CAFS) appliances. His front-line operational experience includes the 2003 Canberra Bushfires and Bushfires 2019-20.
He has dedicated his time to furthering the safety of firefighters and the community through the promotion of innovative approaches to fire appliance and fire station design. He has been a fierce advocate for best practice approaches to vehicle and building design. This dedication is evident in his invaluable contribution to numerous ACTF&R Workplace Consultative Committees focused on vehicles, equipment, and facilities.
He was instrumental in the development and delivery of ACTF&R's Station User Requirements document that provides a standardised approach to fire station design and construction into the future. His work in these areas promotes firefighter safety, maximises sustainability, and reduces the level of risk to the community. His knowledge of risk in the context of the ACT community has been utilised to plan strategic station locations in the ACT. He has advised the ACT Emergency Services Agency Commissioner directly in the planning of fire and ambulance station locations into the next 15 years. The result will be a comprehensive plan that identifies the future emergency services infrastructure needs of the ACT with consideration for planned population growth. This work will reduce the vulnerability of the ACT community to the enduring hazards unique to the Bush Capital through reduced emergency response times.
He has made a significant contribution to the safety and wellbeing of firefighters and the protection of the ACT community, particularly through strategic planning. Mr Abrahamffy has served ACTF&R and the ACT community with distinction throughout his career.