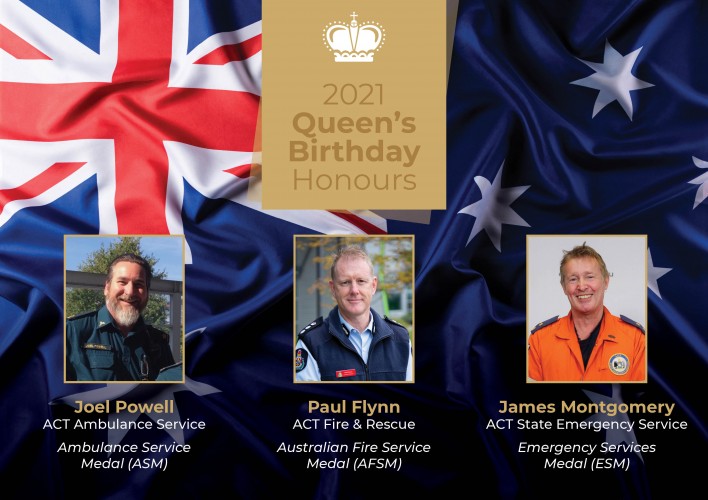 Three members of the ACT Emergency Services Agency have been recognised in the 2021 Queen's Birthday Honours. The annual awards celebrate distinguished service by members of the Australian emergency services. 
The Ambulance Service Medal (ASM) recognises distinguished service by the men and women of Australia's ambulance organisations.
The Australian Fire Service Medal (AFSM) recognises distinguished service by members of Australian fire services, both paid and volunteer.
The Emergency Services Medal (ESM) recognises distinguished service by members of emergency services across Australia, and people who are involved in emergency management, training, or education.
The 2021 recipients of the Queen's Birthday Honours from the ACT Emergency Services Agency are:
Mr Joel Powell ASM commenced with the ACT Ambulance Services in March 2008 after initially undertaking his ambulance training with the Queensland Ambulance Service. During this time Mr Powell has shown dedication and leadership to the ACT Ambulance Service and his colleagues through his role as a Duty Officer, Peer Support Officer and a training facilitator. Mr Powell brings credit to the ACT Ambulance Service in all aspects of his work.

Superintendent (SUPT) Paul Flynn AFSM commenced with the then ACT Fire Brigade on 31 October 1997 as a recruit in College 23. During SUPT Flynn's 23 years of service he has worked across a range of operational and portfolio areas in ACT Fire & Rescue (ACTF&R) and has consistently displayed diligence and dedication in the safety, education, mentoring and training of firefighters.

Mr James Montgomery ESM has demonstrated an outstanding level of commitment and made an invaluable contribution to the community as an active volunteer with the ACT State Emergency Service (ACTSES) for more than 23 years. During this period of distinguished service Mr Montgomery has directly contributed to the ongoing development of the ACTSES into the highly regarded organisation it is today.

Congratulations to the deserving recipients!