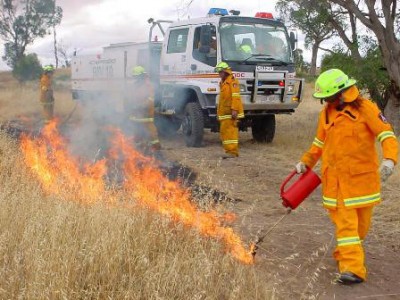 To reduce the hazard you need to either remove it, or minimise it as much as possible. This can be done by burning, slashing, grazing or vegation removal.
You might also hear this method being called planned burning, hazard reduction burning, controlled burning or fuel reduction burning.
Planned burning uses fire to burn away a bushfire hazard, such as long grass or thick bush.
Planned burning can be undertaken by fire agencies, land managers or by rural land holders.
A good example of a prescribed burn is when Territory and Municipal Services (TAMS) have land in a national park which has a high risk of a bushfire starting and spreading out of control. To minimise the risk of this happening the hazard needs to be reduced, but if the area is too steep or rocky to use a slasher or a mower, or is too big to have people physically go in and remove the hazard, they could then use prescribed burning to burn it away instead.
During the bush fire danger period a rural land holder must seek a permit before lighting a planned burn. Rural land holders are encouraged to seek advice from the ACTRFS all year before lighting planned burns.
Rural land holders may have other environmental or lease constraints that they must adhere to when undertaking planned burns.