Prepare:
Prepare yourself
Know your risk! Check if your house is located in a bushfire prone area by searching for it on our online map.
Prepare your exit strategy by planning your exit routes in the event of an emergency.
Prepare your Bushfire Survival Plan
Download and complete a Bushfire Survival Plan. This plan contains everything you need to know about bushfire safety and survival. Make sure everyone in your household is brushed up on the plan regularly!
Act:
Get your home bushfire ready by following the home preparedness tips [PDF 1.5 MB] Prepare your emergency kit.
Survive:
Maintain your garden throughout the season.
Keep up to date with us via our website, and find us on Facebook.
Have a safe, enjoyable summer!
Real stories
Four ACT residents give an account of their experience during the 2003 Canberra bushfires, and why it's so important to be Bushfire Ready.
Complete your Bushfire Survival Plan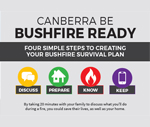 A Bushfire Survival Plan helps you make important decisions before you are threatened by a bushfire.
Your plan will help protect the lives of your family and assist you in preparing your home to survive the threat of bushfire.